Spring Alternative Break
April 9, 2014
When calling to mind idyllic spring break locals the Mississippi River delta is not usually on the list. Before embarking on our journey I anticipated the sense of accomplishment that volunteering in this region would give, but one thing I certainly did not predict was how fun it would be. Everywhere we went we found ourselves smiling and singing along the way. The volunteer work we did, whether it was painting a long hallway, hanging pictures, organizing promotional papers, teaching classes on healthy eating and sex ed or arranging furniture at a Habitat for Humanity store, was all fundamentally fun. We even enjoyed mulching a playground. Didn't realize that was possible. And that was just while we were working. In our down time we ate some of the most delicious meals and met some of the most fascinating people it has ever been my pleasure to know. I won't bore you with detailed lists of names and ingredients (although they're all cataloged in my head) but general themes were everything under the sun battered and fried and the most incomprehensibly generous souls. Halfway through the week this started to weigh on us all. We were having a fantastic Spring Break in a place where most people would never make it to College to know what that means. We were being stuffed to the gills with delicacies and kindness in a place where many people go hungry and children are born to teenagers without the adequate resources and support to show them the love they deserve. How could we really be doing good with such inconsistency? How could we possibly give back enough to even the score? Being surrounded by these genuinely fascinating intelligent people I think we were all confronted with the injustice of privilege. It is hard to see yourself as a beneficiary of an unfair system especially when it is so apparent that there is no meritocracy in it. I am no better no more deserving of opportunity then anyone I met yet purely by virtue of where I was born so much more is available to me. It's a tough pill to swallow. Yet you really can't know a place based on its statistics. Everyone we encountered seemed genuinely happy. They had a sense of community and unconditional love unlike any I've ever seen. I was struck by the fact that time and again the responses to "What do you like most about Greenville" were without hesitation "the people". I am so used to living in places where people chase status and prestige material wealth of ever skyrocketing proportions. Here all those seemed like far off concerns. The waiters and cooks we met were proud of their food, their contributions. As Mary a custodian at the YMCA and a great-grandmother said "You just do what you do the best you can do it." It was so refreshing that people had pride in what they did whatever it was and kept perspective. After all a job is a job. Relationships feed the soul. If happiness is life's objective then the people of the Mississippi delta have a lot to teach the rest of the world. And that's how we ended up justifying our excessively good time to ourselves. As one group member said compassion is a relationship between equals where each sees what the other lacks and tries to help how they can. Maybe the people of the delta knew that we came from a place where unconditional kindness to perfect strangers is rarely shown. They gave us that and it stirred something deeply in each of us. And the only thing we can do to repay them is to carry that lesson back to our normal lives. This way we ensure that the impact of our trip lasts far beyond the week we spent there. And I think it's our duty to tell people the truth about the delta. That their way of life is valuable. It's easy to get cocky when you grew up in the Silicon Valley the epicenter of the tech world and go to school on a beach in Southern California. But your surroundings are only as valuable as the people you enjoy them with and, despite all the systemic problems they face, the people of Greenville MS get that.
Alexandra
Spring Alternative Break
April 9, 2014
The truth hurts. Aside from the catchy jumprope song (M-I-S-S-I-S-S-I-P-P-I) that is sung by elementary school students on the playground at recess, Mississippi is a state that unfortunately is not often talked about or glamorized. Before explaining that I was going there to volunteer, when I told others I was going to Greenville, MS for Spring Break, I definitely got some confused faces. Little did they or I know that this volunteering experience would actually be far more than a trip to the South. With each little bit that I gave, I gained so much more. With each lesson I taught, the learning overshadowed it. I am so grateful for having the opportunity to experience such a humbling and inspiring Alternative Break. So thank you!
Thank you to Kevin, who coordinated our trip amazingly and truly showed us that there is something special about Mississippi.
Thank you to Marjorie, the adorable old woman who allowed us to arrange her intricate quilled art pieces at the Greenville Arts Center and taught us the very skills she uses to make each masterpiece.
Thank you to Ben, who allowed us to volunteer at the Greenville Arts Center through painting, organizing and rearranging.
Thank you to Graham and Blaire, two TFA teachers who shared their own personal stories about volunteering and gave us advice on the classroom setting in general.
Thank you to the Ms. Moser, who allowed us to teach two lessons at the Sunflower Freedom Project after school program and gave us the opportunity to get to know and learn from her students personally.
Thank you to Kierra, a student at the Sunflower Freedom Project who reminded me that it is ok, and in fact wise, to ask all sorts of questions to gain knowledge by asking me for advice on something she needed help on.
Thank you to Bob, who provided us with a place to stay at the YMCA, which simultaneously gave us a taste of the community.
Thank you to Saundra, who showed us that anything is possible if there is desire and will.
Thank you to Charles, who gave us an entire dinner on the house at Doe's Eat Place out of gratitude for the work that we were doing in their community.
Thank you to Booker T. Washington Elementary School, who—by allowing by to volunteer at her elementary school—showed us through her students that dreams are what you make of them.
Thank you to Lisa and Katherine, who welcomed our help with open arms and showed us that it is the impact rather than actual act of service that makes all the difference.
And thank you to AS CAB, for making all of this possible.
There is still so much to do in this world and for this world, but this trip has taught me that something is always better than nothing, and I want to continue this "something" for the rest of my life.
Celine
Spring Alternative Break: Feeling Beauty in the Delta
April 9, 2014
Before embarking on CAB's recent Alternative Spring Break to the Mississippi Delta, I purposely tried not to envisage what the experience would be like, at least not with specificity. I did not want to set expectations, especially in a place I had never been to before. Though it may be premature (we returned only yesterday), I can say with conviction that I am glad I did. I feel like I entered Mississippi as this malleable, moldable clay and left with a certain understanding that I am currently struggling to express in words. I titled this post, "Feeling Beauty in the Delta" because, though I visually saw immaculate beauty at the Mississippi River and tasted beauty in the form of fried pickles, the beauty arisen through my interactions with the people in the Delta is far and away the most lasting. It is the first thing that gets conjured up when I reflect. To keep this post concise and less all over the place than it already may appear to be, I simply want to highlight a few things that have stood out to me about the people I interacted with. One, people are incredibly generous and giving. Seemingly everywhere we went, people offered us their stories, their time, hosted us, and gave us insight, all with this palpable love. Two, the people of the Mississippi Delta are just like us. What I mean by this, is that when hearing of the problems in the Delta (poverty, obesity, segregation) and seeing how life is so different from what most of us in the group were accustomed to, feeling different from the people there is a sentiment that can arise. The sentiment I left with, however, was that through the Southern accents and delicious Southern foods, the people are just like us: they like sports, they work hard, and they love their families. If this part is still unclear, all I am trying to assert is that I felt this disconnect with the people of the Delta and myself (a California kid) during the first day or two of the trip. As our experience continued, I found myself relating so well with the Deltans. It really doesn't matter where you come from. The people of the Mississippi Delta, and all around the nation, deserve the opportunity that we, as Californians have. I returned to Santa Barbara with a strong feeling of camaraderie as an American, a feeling that typically has evaded me for whatever reason. The feeling of beauty gave me an impression of united-ness. And it feels darn good, y'all. If you've read this far down, I HIGHLY encourage you to participate in the plethora of amazing opportunities for growth and learning that CAB offers. Peace and Love.
Sean
Spring Alternative Break
April 9, 2014
Being able to go to Mississippi and experience so much gratitude and love was amazing! There are not enough words to describe my feelings towards this amazing trip. I am thankful that I got the opportunity to go on this trip. This trip was such a great learning experience and I am glad that I was able to make a small change with all the other UCSB students. One can give so much, but also gain so much knowledge from different traditions and cultures. This was the best spring break I could have asked for! 🙂
Best Experience:
Meeting a 7th grader who told me we were going to be twins because we had braces and also meeting a 4th grader who told me he liked me because I liked the Lakers and Lakers were his favorite basketball team. All the kids were amazing! I took so many pictures of the kids that captured happiness and love.
Jenny
1st Time
April 9,2014
Since I have gotten to college, I haven't really volunteered much at all. But I decided that spring quarter would be different. I went to the adopt-a-block event last weekend and I had a blast! I loved helping out my neighborhood, and it was rewarding to receive a ton of "thank-you's" from all the grateful residences. I will definitely be volunteering again soon.
– Marisa
Volunteer Time! In Mississippi!
April 4, 2014
"This place might be small, but it is a very special place filled with large hearted people." Mary said to me and my friend Sean. Mary is an elderly woman who cleans the YMCA when it closes and is one of the funniest and kindest souls that we met during our alternative break in Greenville, Mississippi. She was one of many kind souls who definitely made this trip. We were in the gym playing basketball and reflecting about the events of the day, two simple things that became nightly rituals on our trip along with our friend Baolun. However, that night happened to be one of the more interesting nights because prior to our "rituals," we had just finished our nightly session of "highs" and "lows" and there was a bit of frustration about the trip and a little bit of disagreement expressed among all members. This was probably one of the lowest and at the same time, highest days of the trip because even before all this we had just returned from the generous restaurant, Doe's Eat Place, where the owner Charles Doe, another generous and kind soul, did not make us pay for a meal that probably could earn one if not several Michelin stars all just because we were volunteers. Almost everywhere we went, we were treated with true Southern Hospitality, especially at Doe's. For obvious reasons, it is easy to see why this day is a high point, but like I mentioned it was a low point because several of us expressed our frustrations and personally I felt that the volunteer work we were doing was not widely, directly, and positively affecting the demographic that I thought we would be helping and being in solidarity with, and to be frank: the socio-economically challenged Black community. Even though we did help at the Sunflower County Freedom Project (an after school program for Black 7th-12th graders) and at Booker T Washington Elementary (98% Black), I felt it was limited. Now, I must stress before I continue that this was half way in the trip and I understand that everything we did, no matter how small, was helping the Mississippi Community in a positive way. However, in my perspective, I felt like sometimes we were helping the administrators of the volunteer sites who seemed in my perspective, sometimes not directly helping the socio-economically challenged community. Some of the tasks that we did seemed like they were only beneficial for the administrators of the volunteer site. My expectations for this trip were that we were going to be doing arduous work and being in long, constant contact with the Socio-economically challenged Black community who I feel is the community that needs the most help. I was frustrated that even when we were in contact and somewhat in solidarity with the socio-economically challenged Black community like at The Sunflower County Freedom Project and Booker T. Washington Elementary, it was not as much contact as I would have hoped. In short, I felt my expectations were not being met and that I was not really helping. Despite my frustrations, it fortunately only took me a day and some encouraging words from one of the Teachers at Sunflower, Vyish, who said to me that I really have made an impact just by being there and having a conversation with the students. Actually, as I type this on my iPhone on the plane going back to LAX, this statement just reaffirms the idea that even the smallest amount of volunteer work can make an impact on the people I come in contact with as long as I am genuine with them because they truly were all genuine to me. Every single person and I will try to list them but the sad and embarrassing thing is that I don't remember them all: Kevin, Bob, Mary, Ben, Sandra, Willishia, her son Jeremiah, Sandra, Vyish, Justine, Andrew (Mr. Stevens), Tatyana, Mikayla, Scheranda, Gus Williams, Kontraveis, Dave, Eustace, Rodarious, Quay, Tomas, Jaques, Omar, Antonio, CJ, Soloman, Jordan, Jaylen, Robert, Gerald, Lafranz, Pamaurion, Genesis, Michael, Mr. Milton Bell, Ian, Ricky, Divitri, Bryce, Ryan, and Cindy. All of these and more were genuine to me and I tried to be as genuine as I could be with them. Once again, despite my frustrations, it was the people that I came in contact with who truly made the trip through their unique stories which definitely helped change my disillusionment in the span of one day. I've voiced this before, but not as clear and the best way that I can articulate this idea is in its original form. When you envision yourself as an activist, you are not supposed to envision yourself and your goals, but rather the community and the goals of the community and the cause. In the same way, when you see yourself as a volunteer, it is not about you as the volunteer, but the cause and the people in that community you are helping. It does not matter if my experience did not match my expectations, it is more important that the community that I am helping is getting the required and necessary help and is meeting its goal. My individual experience is not as important as the experience of the community as a whole. I truly did have a memorable experience, but I do wish it could have been more effective in helping the specific community that I wanted to help. While a positive experience would be an added bonus and is a goal of a volunteer trip, I've learned that I might not have the greatest most spectacular experience, but rather sometimes an experience that challenges me and makes me learn. These were actually two goals of this trip that I had: to be challenged and to learn. After this trip, my perspective of volunteering has changed in a very positive way. To me, volunteering which was once a just a way to individually feel good about a positive action, but it has changed to focusing more on the feelings of the community and its goals which in essence has always been the root of volunteering. Though to many this statement is not new, to me it is important that I have come to this realization that not every volunteer experience may be super life changing, but it is more important that I do the volunteering work even if it seems indirect because someone out there in the community that I am helping might be affected dramatically in a positive way. I can only hope that my efforts have changed at least one person because one person is all it takes to make that change.
For those of you who think I had a bad experience, that is not what I am trying to say. Overall, I had a wonderful experience. In short, what I am trying to say through my long blog post is that not every volunteer experience is going to be life changing, but it is important to do every volunteer opportunity because each one will truly make an impact in some form. Volunteering is not only just about feeling good about oneself, in my opinion, that is one of the least important aspects of volunteering. Volunteering is about the community and making sure that the goals of the community are accomplished and put before the needs and goals of the individual. It is much better that I took away a lesson than just having a great time, even though I did have a great time. I've learned so much from this experience, even more than from the experiences that might have poignantly or especially moved me. My expectations might have been high, but the students who lead these breaks and most importantly, the two strong women who led this past one did their best and in my opinion, that is the greatest thing anyone can do: just to do their best. When I came to them with my frustrations, they listened, understood, and gave me the support that I needed in order to give me some composure. Words cannot express my gratitude because my gratitude is more than words. They did an amazing job, one that I know is much more difficult on the side of the organizer.
The alternative spring break or any volunteer break is definitely one I believe that everyone should go on because anyone can go have a typical spring break swimming, tanning, and possibly drinking, but not a lot of people can give up that time focused on the individual and instead focus on the community. This trip has only taught me to remember that in regards to volunteering, the individual is not the most important figure, it is the community. Like the Pilipino and Mexican Migrant workers would yell in unison at the end of the day of work in the fields, I end this blog post with the infamous statement which translates to One down, One Fall. When one falls, the whole group falls. But when one rises, the whole group rises. Isang Bagsak!
(Shoutouts to all the other strong women on this trip as well! Y'all are fierce)
– ayeldarb
Alternative Break
December 22, 2013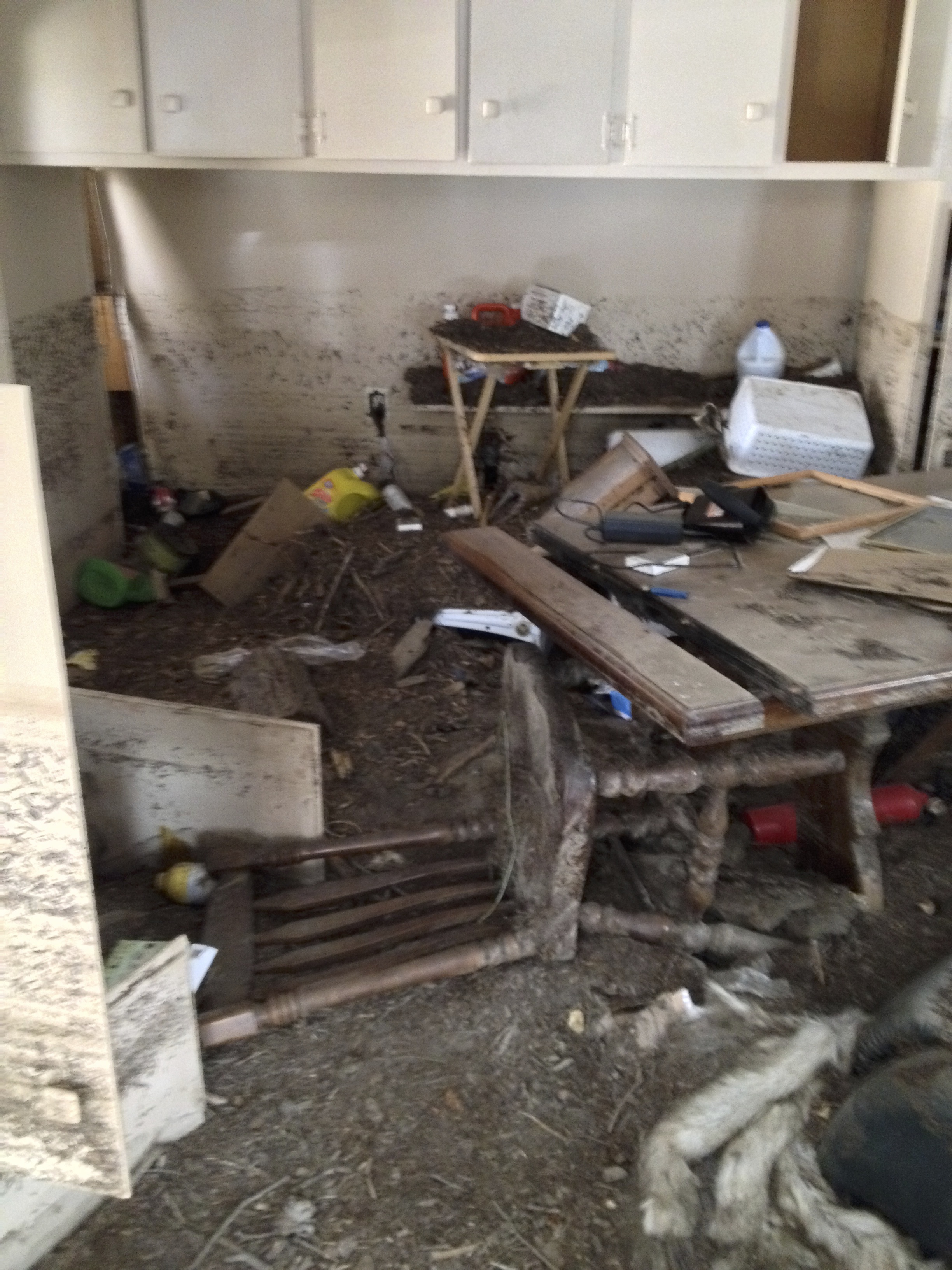 During the first week of my winter break I volunteered with an amazing bunch of fellow UCSB students in Colorado to help those affected by the fires and floods that hit in September. We worked with a homeowner who had just regained access to his house, which had up to three feet of frozen mu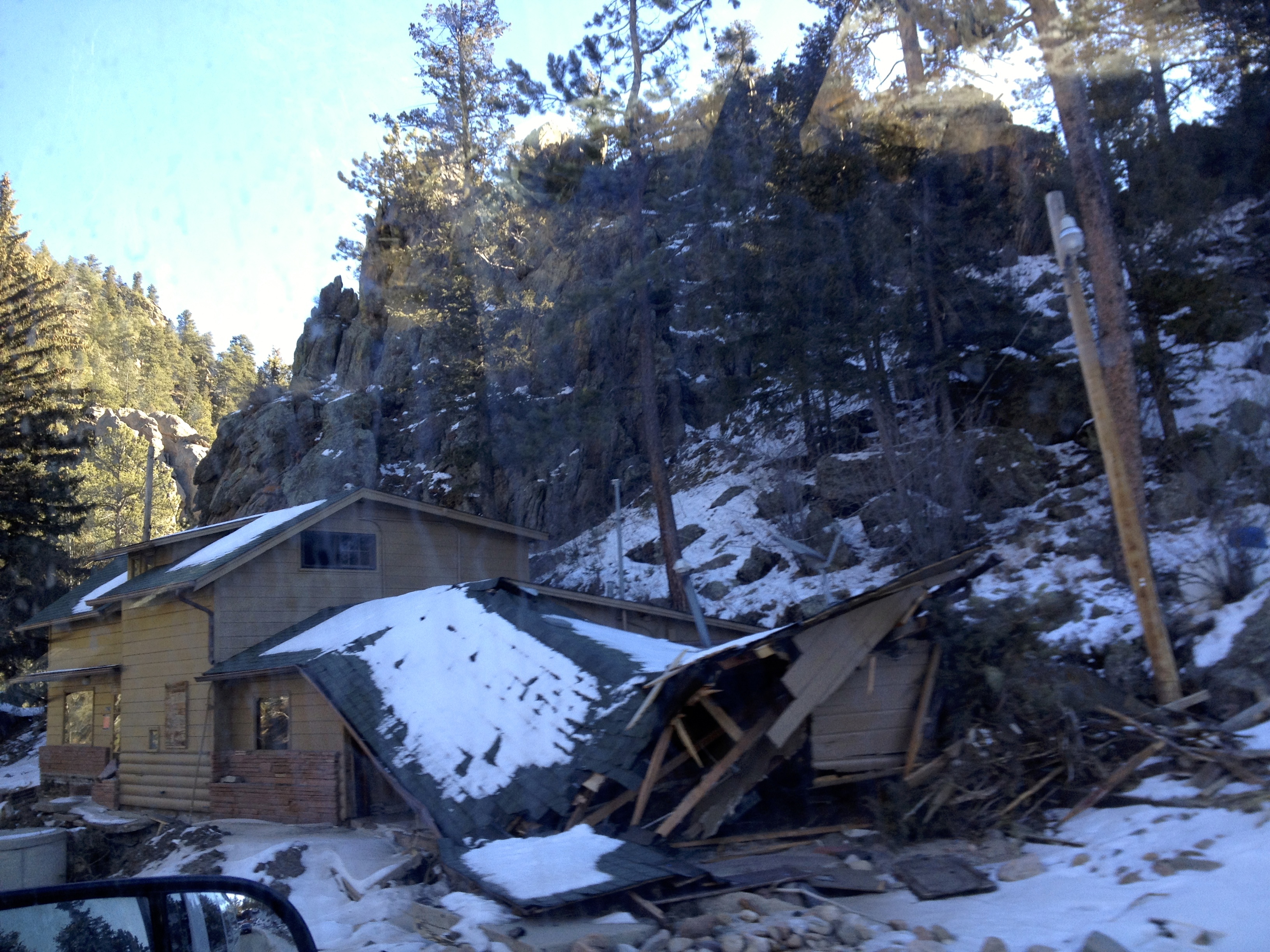 d in it; the town of Big Elk Meadows, which had their five lakes washed out and many homes damaged; and River Church which had the flood tear through their sanctuary. Then, on the flight back to Los Angeles, I was sitting next to a boy who attends Arapahoe High School, which had a student shooter attack about a week prior. All of these people have shown nothing but positivity and g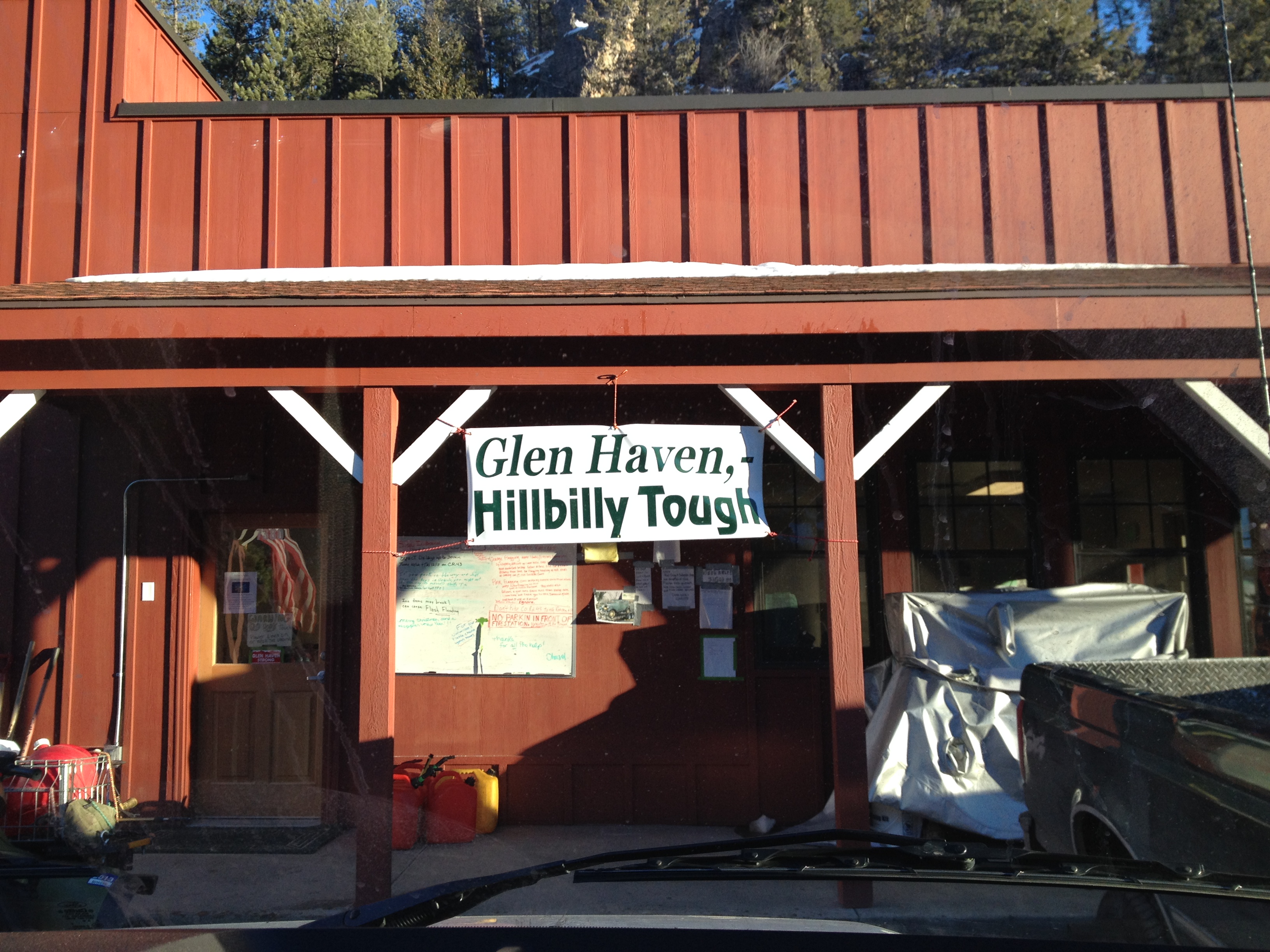 ratitude, even in the face of so much loss, and have left me truly inspired. Survivors are amazing people.
-Rachel Moore
Alternative Break
December 21, 2013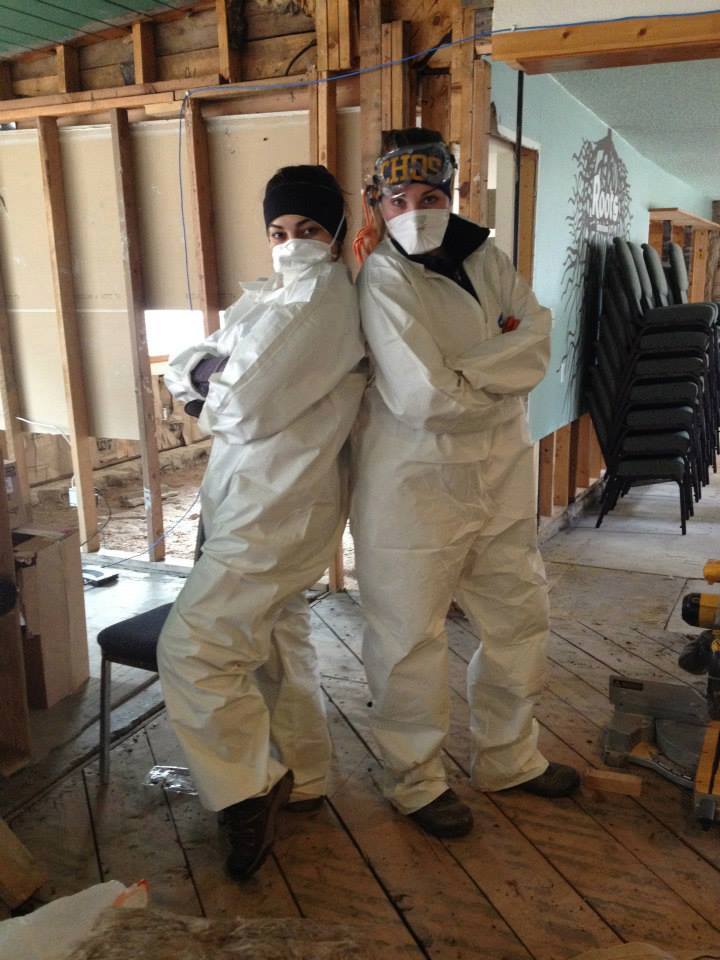 Just came back from Colorado and all I have to say is wow. My heart is filled with joy knowing that we helped towns destroyed by the floods. Seeing it first hand made my heart hurt,knowing that families lost everything,or so I thought so, they did not lose hope. From digging through 3 feet of solid frozen mud, working in an area that used to have 5 lakes, and even rebuilding a church, I feel so humbled and honored to have volunteered with the BEST crew any person could have ever asked for. We worked so hard and I am sooo proud of all us. I will never ever forget Colorado.
-Ashley Iraheta
How CAB changed my college career
April 8, 2013
In freshman year, I didn't click with anyone on my hall. We didn't have drama but it wasn't what I thought meeting a hall of high achieving students was going to be like. I just spent time in people's rooms, not doing much, feeling like I was wasting my time.
Then in spring quarter freshman year I went to my first CAB meeting. And it just clicked. The people were friendly and genuinely interested in making the world a better place. They cared. They took action.
So I applied to be historian my sophomore year and got the position. CAB Board is where I made my best friends in college. We spent so much time together at meetings and then it carried over into our personal life. We hung out, ate meals, and watched movies together. I grew to love the organization and the people involved. It became the family I was looking for my freshman year and it's carried me throughout my four years here. I have no doubt that I will remain in contact with friends I've made in CAB.
Joining CAB Board was the best decision of my college career. So you should join too! Even if it doesn't end up being like my experience, I'm sure it'll be fun! We'd love to meet you and become friends. 😀
(What I Believe) The True Mission of CAB
November 13, 2012
Yes, CAB is a community service organization. Yes, our purpose is to volunteer our time and help other college students to do the same, in an effort to better the community. But really, that is not (what I believe) CAB is truly about. At it's core, CAB brings people together. To smile, LISTEN, and love. We all have a story, a passion, a family, and we want to share it. Whether you're a houseless community member at breakfast club, a child in the after school Juguemos program, or a UCSB student volunteering at You Matter, we are all seeking the same things. Companionship, a warm hug, and a little bit of laughter. That is what CAB is truly about; the PEOPLE. The magic of giving, of CAB, is that we all benefit, and no matter your circumstances, you can be a part of it.
– E.B.