Join CAB for Volunteer Week this quarter April 20-25! Get to know fellow Gauchos and your community by engaging in volunteer work and other fun events!
---
Check out this week's April 20th, 2015 Care-Mail here!
Join us for our next weekly meeting, Wednesday, April 29th (note the date) at 6:00 PM in the GSA Lounge (2nd floor of the MCC) for some snacks, friends, and new volunteer opportunities!
---
APPLY FOR CAB LEADER BOARD 2015-2016 HERE! Applications are due Sunday, April 26th at 12:00 PM.
---
Register for Peace Leadership: Making World Peace Possible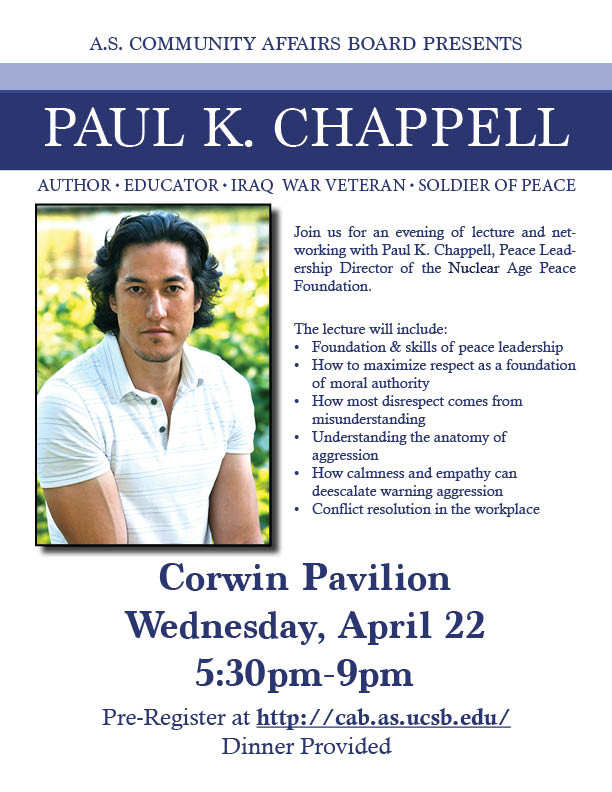 Who We Are
We are students making a "Degree of Difference!"
The AS/UCSB Community Affairs Board (CAB) is an official board of the Associated Students Legislative Council. We are comprised of active students who work to bring the campus and community together through service.
Our Mission
The AS/UCSB Community Affairs Board (CAB), UCSB's Volunteer Action Center, is dedicated to enhancing the educational experience of all UCSB Students by providing information and easy access to community service work. Through a wide range of projects and community programs, CAB seeks to augment classroom experiences, create opportunities for career exploration, connect UCSB to the community in a meaningful way, and promote the ethics of public service.
Do you have an event that you would like to add to our weekly Care-Mail newsletter?
Email cab.ucsb@gmail.com with the Subject: "Care-Mail Event – TITLE OF YOUR EVENT" and the following information:
Event Description:
Date:
Time:
Location:
Who to contact:
Also contact us if you would like to present at our 6pm Wednesday meetings.